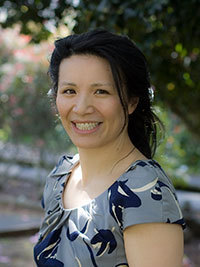 Dr Eva Fong
MBChB, BHB, FRACS (Urol)
Eva is a New Zealand-trained Auckland urologist specialising in female urology and urogynaecology.
She was born and raised in Wellington, attended the University of Auckland School of Medicine and completed the Royal Australasian College of Surgeons Advanced training in urology.
Eva then undertook a two-year American Board of Obstetrics and Gynecology/American Board of Urology accredited fellowship in Female Pelvic medicine and Reconstructive surgery in New York University, New York. Under the tutelage of Dr Victor Nitti, an internationally renowned urologist, and Dr Nirit Rosenblum, Eva gained expert skills in up to date 'state of the art' treatments of female and male incontinence, pelvic organ prolapse and complex pelvic reconstructive surgery.
Eva has been actively involved in clinical research and has presented at international and national meetings, published several peer reviewed articles and written book chapters including a chapter in 'Vaginal surgery for the Urologist' (Elsevier Health) on how to perform a focused examination on women with pelvic floor dysfunction.
Eva's treatment philosophy is based upon careful evaluation of your condition and utilizing her expertise in multiple techniques of therapy to offer you an optimal treatment plan that you feel comfortable with.
Eva divides her time professionally between Waitemata District Health Board and ONESIXONE.
In her spare time Eva and her husband are kept busy running after their two young daughters and new arrival Sebastian.
Conditions treated:
Urinary incontinence in women
Pelvic organ prolapse
Complex and recurrent prolapse and incontinence
Treatment of vaginal mesh and non-mesh related complications
Mesh removal
Urinary incontinence in men (including post prostatectomy incontinence)
Lower urinary tract symptoms in women and men (including benign prostatic hyperplasia)
Neurourological conditions including sacral neuromodulation
Percutaneous tibial nerve stimulation (PTNS)
Recurrent urinary tract infections
Kidney stones
General Urological condition
Eva consults weekly at OneSixOne and once a month in Takapuna.
Click here for an article highlighting Eva's work in the field of vaginal mesh removal.
For an appointment with Eva at any location, please call her secretary Prachee on 09 623 0161 ext 212/263, or email reception@onesixone.co.nz