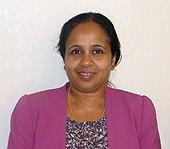 Dr. Rita Sasidharan
Dr. Rita Sasidharan has been a Consultant Medical Oncologist at Auckland City Hospital since 2006 and in private practice at OneSixOne since 2011.
She did her undergraduate Medical training at Calicut Medical College, Kerala , India and then trained in Medicine at Bronx Lebanon hospital USA, and Taranaki Base Hospital New Plymouth. Rita completed her post graduate Oncology training at Auckland City Hospital.
Rita's main clinical interests are the management of patients with breast cancer and lung cancer. She has been the clinical lead for lung tumour group at Auckland City Hospital from 2010 to 2012, and is also involved in national special interest groups for breast cancer and lung cancer .
Rita is actively involved as Principal Investigator and co investigator in many clinical trials in lung cancer and breast cancer, and is a member of several co-operative trial groups and professional societies.